Segment that uses the agility and versatility of pre-painted material with a focus on durability, design, innovation and technology. Tekno Kroma develops tailor-made solutions for this market that increase the aesthetic, functional and technical improvement of furniture; as well as enabling the modernization and outsourcing of painting processes that can become the bottleneck for the furniture industry.
We also deliver benefits such as the application of protective and decorative films, diversity of colors and finishes, excellent paint stability and consistency, uniformity and standardization of the material.
FINAL PRODUCT
Cabinets, counters, shelves, drawers, dressers, racks, trolleys, among other furniture for different environments such as kitchens, living rooms, bathrooms, bedrooms, garages, hotels, among others.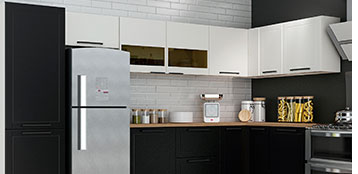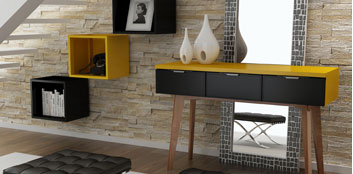 PERFORMANCE
High resistance to corrosion and household agents
High resistance to heat and humidity
High abrasive resistance
High flexibility, allowing excellent conformation of the final product
SOLUTIONS APPLIED TO THE PRODUCT
KROMA HIGH GLOSS
Premium Line
KROMA WOOD
Decorative Line
KROMA DECOR
Decorative Line